News
New Inventory Item!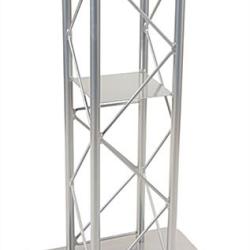 Apr 20, 2019
Have a big announcement, ground breaking, or ribbon cutting coming up?  Then check out our new Truss Lecturn!
This lecturn is comprised of a strong metal top and base and held together with a Truss frame.  It features a platform shelf that can hold items during the speech and the frame is strong enough that banners or logos can be easily attached.  
You can see all of our meeting equipment here: http://www.millersparty.com/meeting-lighting
Don't forget to follow us on Social Media!