News
New Inventory Item!
Apr 30, 2018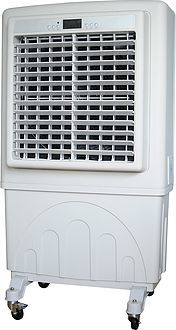 We've upgraded our space cooling inventory with these exceptional beauties!
Introducing the "CoolBox" cooling Units.  These units will cool up to 1000 square feet and drop the Ambient air temperature of the space from 10-25 degrees.  Perfect for those sometimes warm and sticky Ohio days!
With no installation or duct required they are perfect to roll into place, plug in and start working. 
To run at optimum capacity, they need 21 gallons of water in the onboard reservoir and a mere
3.5 amps of electricity to start.  The 110v plug can be plugged into any standard outlet and won't pull too much power to dampen the event.